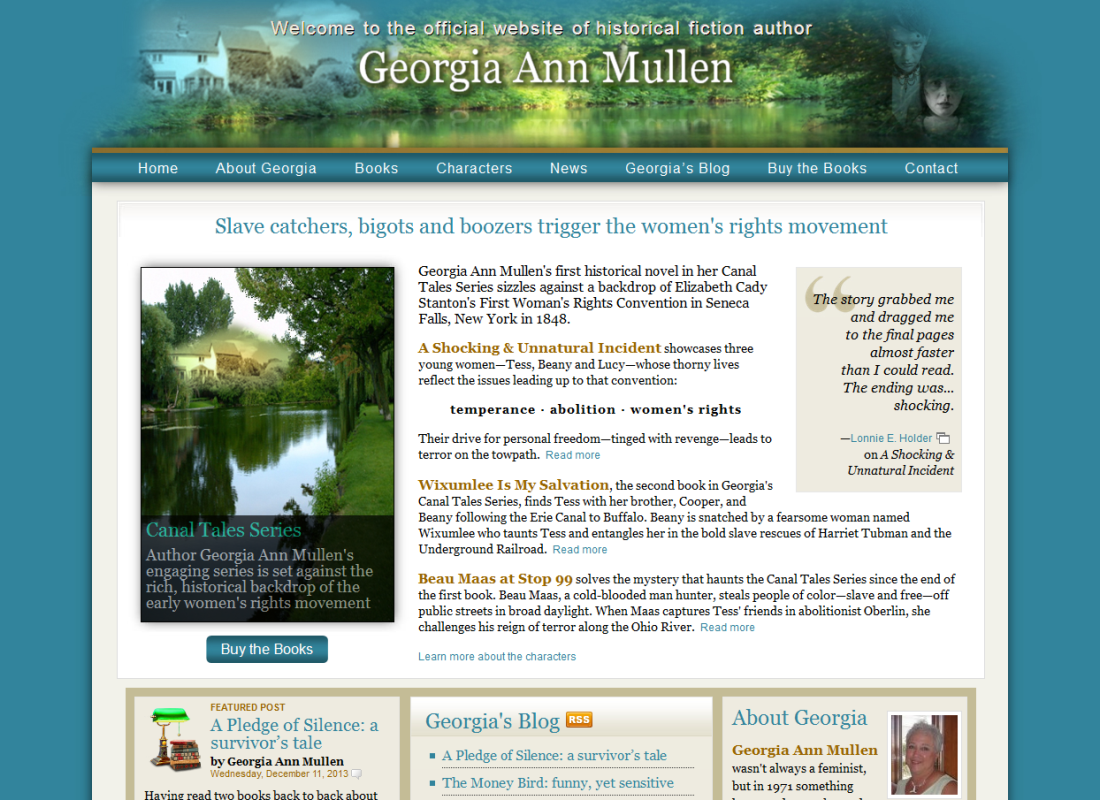 29 Jan 2010 . . . My site is . . . shocking! I say that with pride, elation, and gratitude. You have been most kind, patient, and generous. I enjoyed working with you. —Georgia Ann Mullen
Historical fiction author Georgia Ann Mullen had specific ideas and a time frame in mind when she hired me to design a website for her books.
Her existing website (hosted by her publisher) was expiring, and her second book was coming out within a couple of months. She wanted the "new and improved" website up as soon as possible, definitely before the second book's publication, so she could promote the new book well in advance.
In addition, she had a detailed website wish list. She knew what she wanted for her pages, page content, and design elements; and she knew she wanted to be able manage it all herself . . . update and make changes . . . to keep the content lively and current.
Not a problem. Everything Georgia wanted came neatly wrapped in WordPress.
A slideshow on the HOME page effectively showcases my client's books. The custom top banner, featuring images from the books, plays well with the rich teal background. The rest of the color scheme, pulled from the banner and slideshow, gives the layout a rather "antique" look . . . perfect for historical fiction.
Georgia Ann Mullen
Author website/blog
Custom design in WordPress
Custom title/banner
Dynamic drop-down top menu
Slideshow with custom images
Custom images throughout website
Image highlight rollovers
Dynamic page content
Social icons
Thumbnail pop-ups
Random testimonial script
Events calendar
Breadcrumbs
Encrypted email
Custom favicon