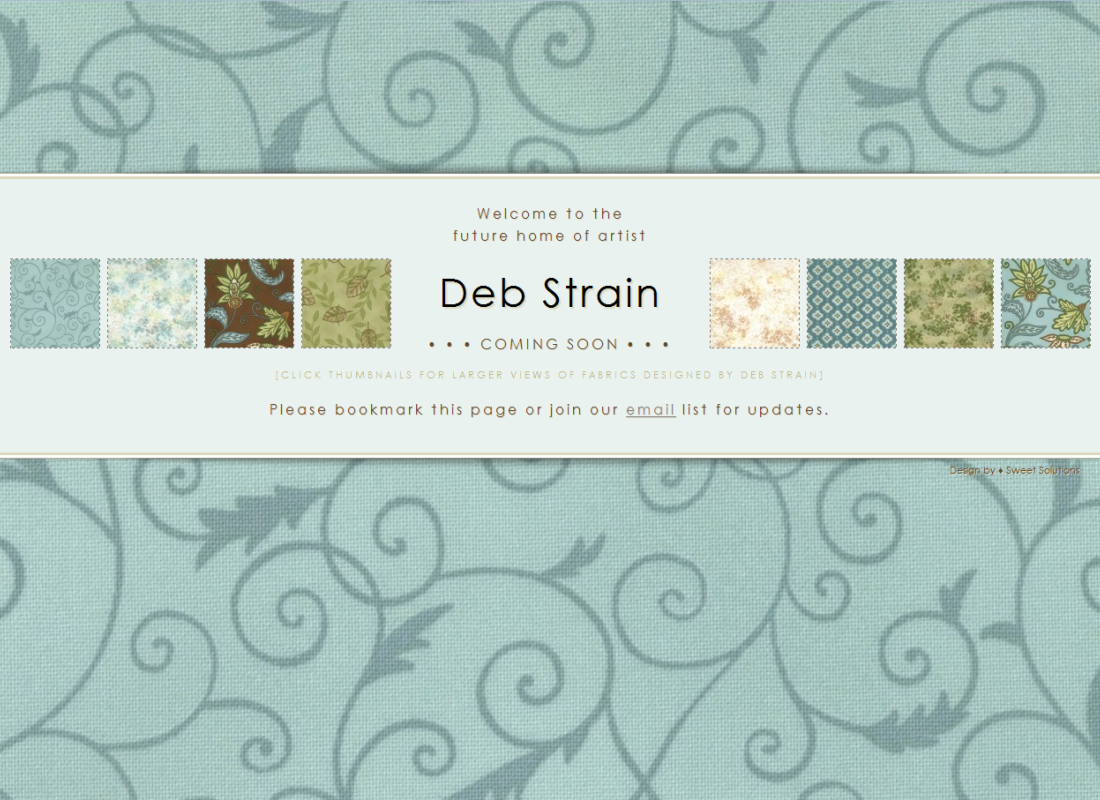 06 Dec 2010 . . . I LOVE it! Beautiful! Thank you so much for all of the time and energy you put into my website. Everyone loves it. You are very talented . . . It has genuinely been a pleasure to work with you. —Deb Strain
When artist Deb Strain asked me to design a placeholder page for her retail business, I knew exactly what I wanted to do.
While I was working on a design for her new wholesale site, Saltbox Wholesale, Deb sent me dozens of images of her fabric patterns. The fabrics were stunning and elegant. I had used one of them, a vibrant dotted red, for the background on the wholesale site, and I knew I wanted to showcase several different fabrics (in cool blues and greens) on the placeholder page. It would give visitors a good taste of Deb's designs and might entice them into wanting to come back for more once the actual site was launched.
With CSS and a style switcher script working their magic, visitors can simply click the thumbnail fabric swatches and, voíla . . . larger views of the my client's beautiful fabrics appear as backgrounds on the page.
UPDATE: This layout is no longer online. In Oct 2105, five years after it was launched, Deb asked me to redesign as a landing page with links to her Etsy shop and wholesale site, Saltbox Wholesale. The style switcher was no longer needed, but you can view a demo of the original page here. On the demo page, click on the thumbnail fabric swatches to see the switcher in action.
Deb Strain
Artist placeholder page
Custom design
Style switcher script
Interchangeable backgrounds
Eight (8) background images
Eight (8) different stylesheets
Custom thumbnails
Image highlight on hover
Encrypted email
Custom favicon