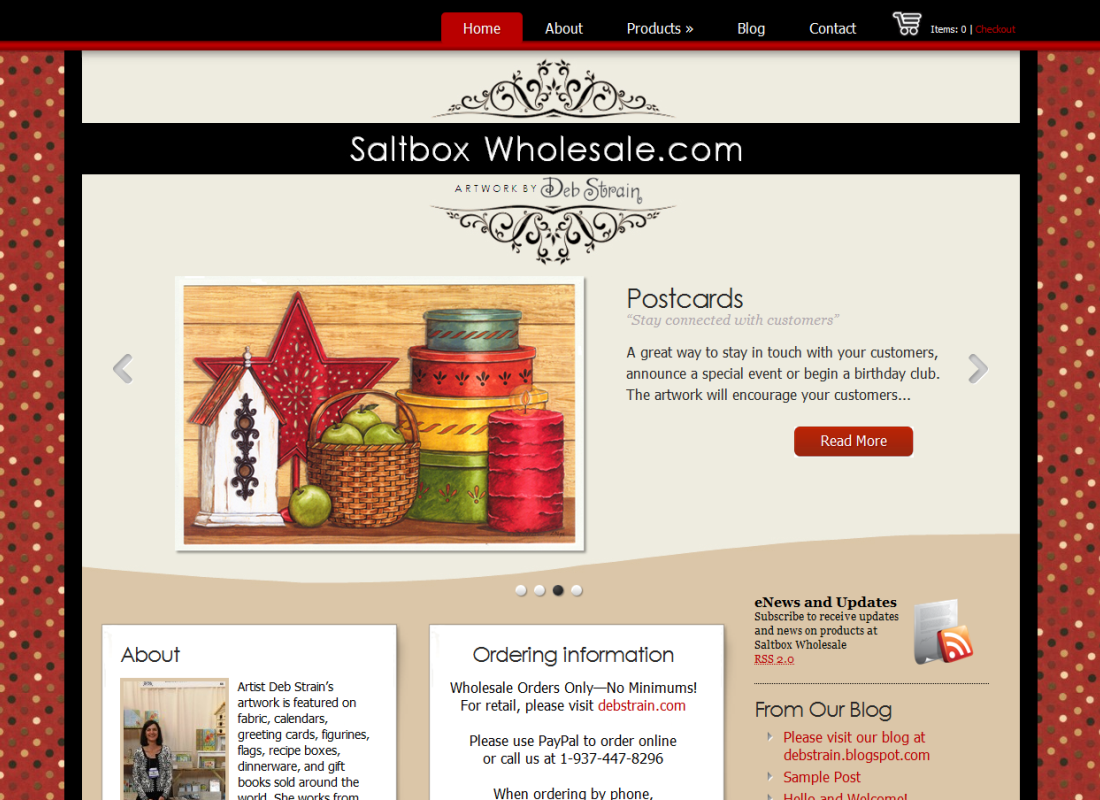 22 Nov 2010 . . . The website looks WONDERFUL!!!!! I've shown it to several people, and they love it, as do I. Thank you for all of your hard work. —Deb Strain
Artist Deb Strain wanted a new, completely different look for her existing, outdated online store—something "simple," yet "professional looking," that better reflected her current style of artwork.
Using the Minimal theme by Elegant Themes, I put the new website into WordPress and completely customized the look of the layout.

The rich-and-vibrant red dotted background is one of my client's fabric patterns. With red and black accents, and tan (pulled from the dots) for the content area, it is a perfect backdrop for her colorful artwork. The artwork itself is featured prominently throughout the site—on all pages, in the slideshow, and in thumbnail pop-ups for larger-than-life views of her products.
A shopping cart was installed, styled to match the site, and linked to PayPal. With the products added, Saltbox Wholesale was ready for business.
All in all, the website looks like a warm and friendly place to shop . . . and my client can manage the whole thing easily herself from within the WordPress admin panel.
Saltbox Wholesale
Artist online store
WordPress theme modification
Custom title/banner
Custom HOME page
Dynamic drop-down top menu
Slideshow with custom images
Image highlight rollovers
WP eCommerce shopping cart
Product gallery
Fancybox
WP single page navigation
Breadcrumbs
Secure contact form
Custom favicon
14 Jan 2014 . . . You designed my website several years ago, and I am so pleased. It has been easy for our customers to navigate, and orders have come through very clearly to us. I have even been able to delete items that were sold out. Thanks Patricia! —Deb Strain